Live Bird Crate Washer
The live bird crate washer is designed for washing containers used for delivery of live birds to the slaughtering plant.

Design and operation: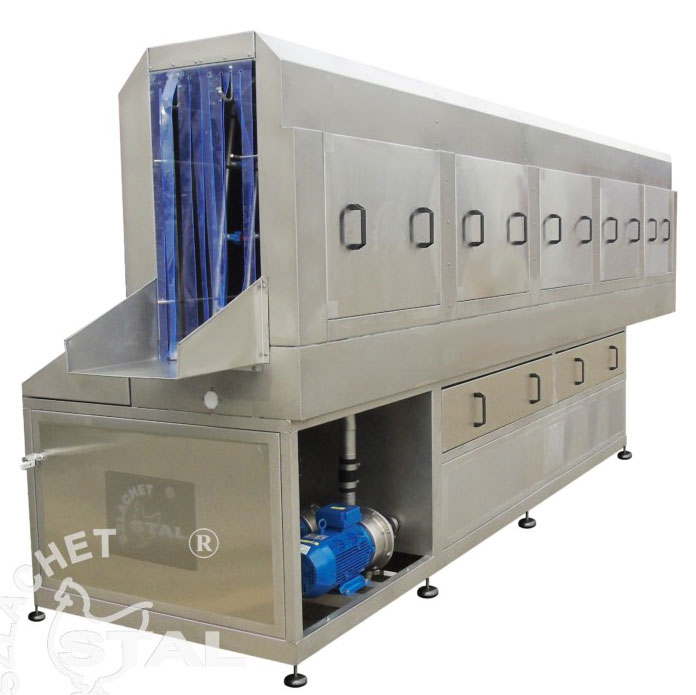 The crate washer is made entirely of stainless, acid-resistant materials. It forms an enclosed entity with input and output openings. Crates are placed through the input opening onto the chain conveyor, which transports them along spray nozzles. Water spraying and circulation inside the washer is controlled by pressure pumps, whose size and capacity accommodate the size and capacity of the washer. The washer also includes rotary slotted screens used for separating solid waste from water. The washer also includes a cleaning agent dispenser – the use of appropriate cleaning agents improves washing efficiency.


Technical specifications:
Washer width
1,290mm
Washer length
depending on the capacity
Capacity
100 - 850 crates per hour
Power supply
3 x 400 (380)V
Water consumption
200 - 800 l/h (depending on washer size and capacity)
Water connection
3/4" - cold water
Transporting chain gear-motor power
0.55kW
Rotary screen gear-motor power
0.55kW
Pump power
2 x 6kW