Tail Feather Plucker
Type: SO-1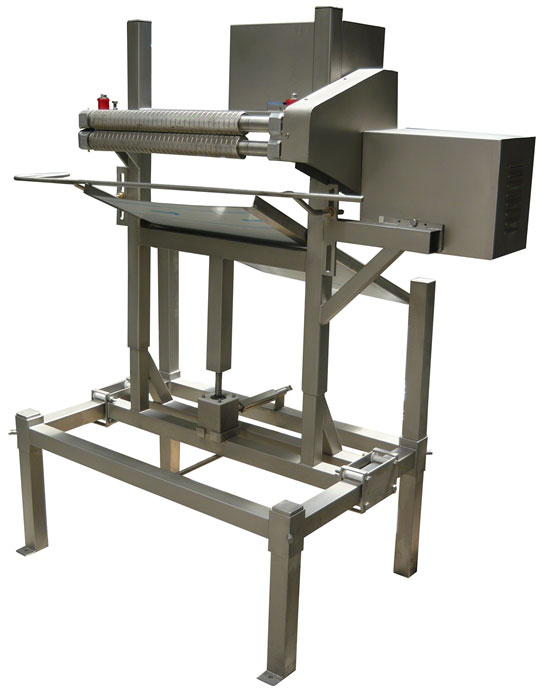 Type SO-1 tail feather picker is designed for removing feathers from the rumps of goose carcasses in the slaughtering process.
Design and operation:
Tail picker is a free-standing device which does not need to be anchored to the floor. It is constructed mostly of stainless, acid-resistant materials.
The basic element of the picker is the frame, to which two rollers are mounted for plucking the feathers. The rollers are driven by gear belts from motors that are mounted to the frame.
The rollers have bearings on both ends. High-quality ball bearings are secured with special double-lipped sealing rings. Each casing is fitted with a lubricating nipple for periodic refilling of the lubricant. Height adjustment is performed by means of a screw elevator mounted in the lower part of the picker. The picking process – removal of tail feathers – should take place after carcasses have been scalded.
Additionally, the picker is equipped with the following:
a separate transport mechanism (driven by the overhead slaughtering conveyor), designed for positioning the shackles with carcasses during tail feather removal
a compressed air supply system from a side-channel blower, with a blade nozzle, designed for supporting, with the force of air-stream, the introduction of tail feathers between the plucking rollers
Technical specifications:
Motor power: 2 x 1.1kW
Power supply: 380V
Blower: 3.0kW