Manual Thigh Deboner
Type: WK-2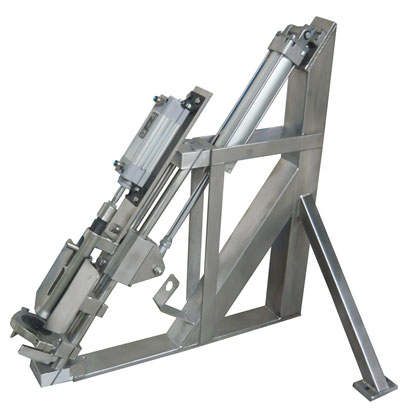 The de-boner is used for trimming chicken thighs and shanks
Design and operation:
The single-stand de-boner is mounted to the table, worktop etc. It is made mostly from stainless, acid-resistant materials, aluminium and food-approved plastic.
The main units of the de-boner are:
Frame made of closed profiles
Cylinders for controlling the operation of the de-boner
Guides of the pushing-out unit
Mechanism for pushing out the bone
Rubber insert
Design and principle of operation:
Upon a frame made mostly of closed profiles, there are two pneumatic cylinders which provide drive for the machine. The machine is controlled with a button located at the marked spot. Pressing the button causes the sleeve and a PE piston – fastened to the slider – are moved downwards along two guides, which causes the thigh or shank bone, placed between the piston and the rubber insert, to be pushed through the opening in the insert. Deboned meat is left on the rubber insert. The bone might still be connected with the meat, in which case it should be torn away or cut off with a knife.
Technical specification:
Installed power: 200W
Voltage: 230V, 50Hz
Capacity: ~ 900 pieces per hour - thigh
~ 700 pieces per hour - shank
Operating personnel: 1 person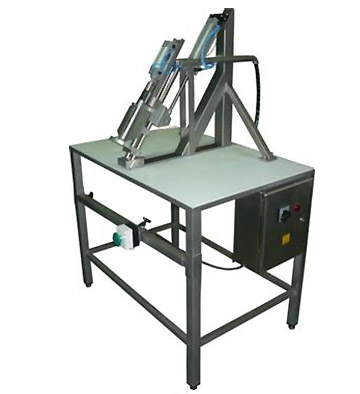 This de-boner is designed for separating meat from bones in turkey thighs and shanks.
Technical specifications:
Installed power: 200W
Voltage: 230V, 50Hz
Capacity: ~ 280 pcs/h
Operators: 1 person