Automatic Thigh Deboner
Type: WK-1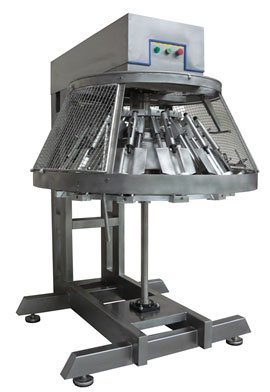 De-boner is designed for trimming chicken thighs/drumsticks.
Design and operation:
De-boner is made exclusively of high-quality stainless and acid-resistant materials and food-approved plastic.
De-boner is a free-standing device, operated by one person. It is equipped with a mechanism for forcing thighs or drumsticks through a rubber membrane, which separates meat from the bone.
The device is adjustable for different sizes of chicken thighs or drumsticks.
Please note that the diaphragms have to be exchanged daily, based on an eight hour operational time.
Technical specifications:
Installed power: 0.18kW
Voltage: 380 – 420V, 50Hz
Capacity: up to ~ 2,400 pieces per hour - thigh
up to ~ 2,000 pieces per hour - drumstick
Operation: 1 person