Carcass and Foot Unloader
Type: WTL-1
The unloader is a mechanical, operator-less device, designed for unloading processed poultry carcasses or feet.

Design and operation: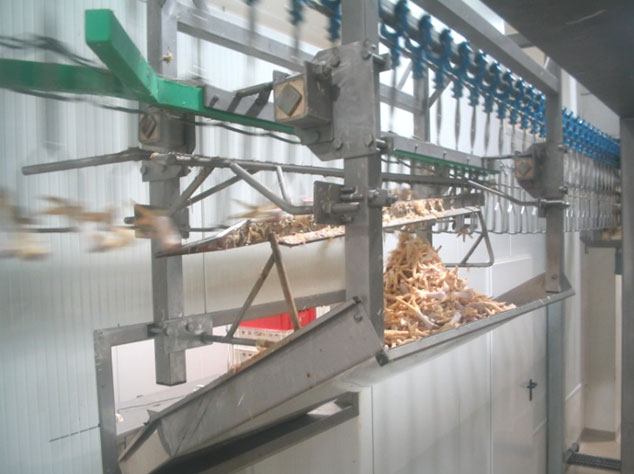 The unloader is made of stainless, acid-resistant materials and food approved plastic. The unloader is mounted to a straight section of the overhead conveyor, where the processing cycle has finished and shackles must be emptied. Unloading can be performed at any section of the slaughtering process. The unloader is designed to work with rack shackles.

Technical specifications:
Unloading effectiveness:
Carcasses: 100%
Feet: 95%


Advantages of this solution include:
operator-less work
very high durability and effectiveness
easy cleaning
"Simple" Foot Unloader with drive unit
Type: WL - N
The simple unloader with a drive unit is designed for unloading feet from shackles of the overhead conveyor.

Design and operation: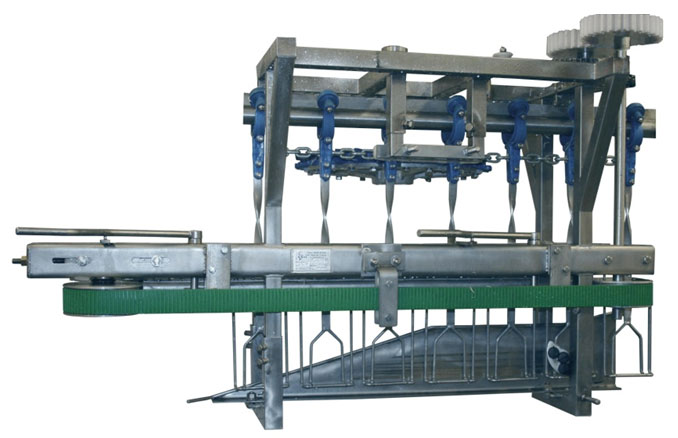 The unloader is made entirely of high-quality, stainless, acid-resistant materials. The basic components of the unloader are:
a frame
slidable carrying beams
belt guides
rubber gear belts with pulleys
a Ø 485 drive wheel with trolley clamps
a chain wheel transmission with a chain
modular gear wheels for drive transmission
an unloading strip

The frame is mounted to the supporting structure of the overhead conveyor. After starting the conveyor, trolleys moving along the track cause rotation of the drive wheel. Then, drive is transferred by the chain transmission and gear wheels to the rubber gear belts. Immobilised by the clamped belts, shackles move along the unloading strip, and feet are pushed upwards and fall into the container below.