Head and Trachea Remover
The Head and Trachea Remover offers efficient technology with high capacity.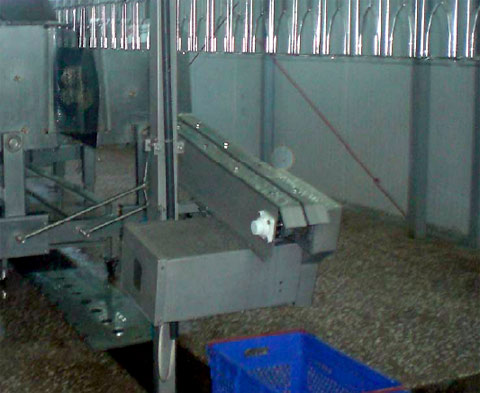 The unit achieves a high production rate due to its sophisticated design.
Fitted to the conveyor system, the head and trachea remover gives excellent results, even when processing layers.
The unit can easily be tuned to the requirements of your day to day processing.
Its height and angle, as well as its guidance assembly, are precisely adjustable.
With its own driving motor, it can be adapted to different slaughtering speeds.
The robust construction and the use of stainless materials guarantees maximum efficiency.
Technical Data: Head and Trachea Remover
Type
shackle
distance
Capacity
bph
Water
cbm/h
Electricity
kW
Vacuum
cbm/h
Compr. air
cbm/h
KLA
all
6,000
0.35
0.37
n/a
n/a
Water connection: ¾"