Joint Cleaner
Due to its adaptive vertical adjustment the joint cleaner can be integrated into any processing line. The picking bars can be tilted outwards for fast and easy replacement of picking claws.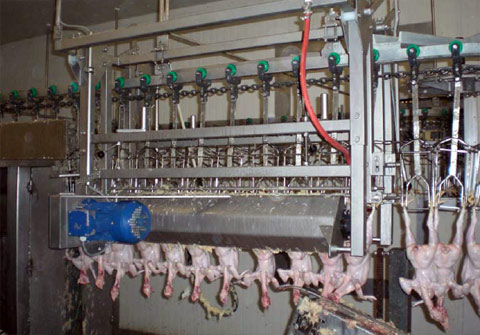 In addition to integrated guidance assemblies with water sprays, the sturdy joint cleaner which is made of stainless steel, is characterised by its low noise level during operation.

The Joint Cleaner is arranged behind the picker as an attachment.
With a picking range of 1.00m, special designed picking claws, mounted on two contra-rotating shafts, stroke over the legs, thus removing remaining feathers at soft scalded products & the yellow skin at hard scalded products.

Thanks to its open design and good accessibility of all picking units, maintenance and cleaning of the joint cleaner can be performed very quickly.
Technical data: Joint Cleaner GP
Type
shackle
distance
Capacity
bph
Water
m³/h
Electricity
kW
Vacuum
m³/h
Compr. air
m³/h
GP
all
6,000
0.35
2 x 1.10
n/a
n/a