Waterbath Stunner
The Waterbath Stunner is situated within the killer line before the killer.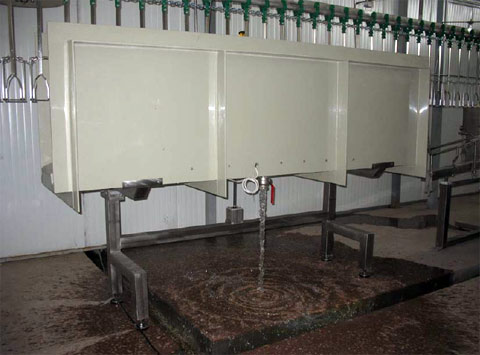 For stunning, adjustable voltage is applied to the water and passes through the bird into the shackle.
The water level of the stunner is adjusted with a float valve.
The trough can be adapted to the bird's size by using a winch.
Stunner switchboards are available as a standard unit with voltage control. A high-frequency version for optimum stunning results is also available.
Technical data: Waterbath Stunner
Type
Shackle
distance
Capacity
on 6"
bph.
Water
cbm/h
Voltage
Vacuum
Compr. air
WB 5000
all
5,000
0.3 - 0.5
220V
n/a
n/a
WB 8000
all
8,000
0.5 - 0.8
220V
n/a
n/a