Gizzard Harvester
All intestines are separated precisely from gizzards and slip out via an incorporated chute.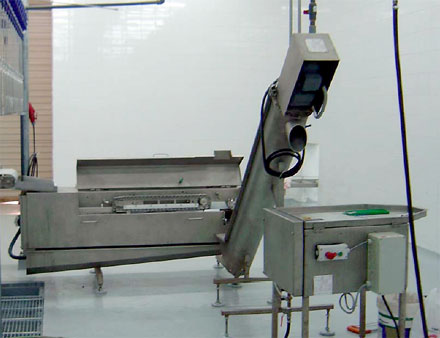 The gizzard is transferred to the splitter knife and the washing position, to where it then moves to the peeler station and the gizzard outlet chute.
The gizzard harvester should be placed in the evisceration section along with the heart and liver area.
This enables a continuous production process, saving manpower and transfer time.
One of the most important advantages of our advanced poultry processing technology has been based on optimum yield during the process.
The gizzard harvester also ensures excellent result at highest quality.
The MS 4000/6000 is easy to clean and to maintain being made from stainless steel and durable food
approved plastics.

Reliability and long distance operation are doubtless.
Technical data: Gizzard harvester MS

Type
Shackle
distance
Capacity
bph
Water
cbm/h
Electricity
kW
Vacuum
cbm/h
Compr. air
cbm/h
MS 4000
n/a
4,000
Various
2.20
n/a
n/a
MS 6000
n/a
6,000
Various
2.20
n/a
n/a

Water connection 1"
The MS 4000/6000 may be combined with a screw conveyor, gizzard control table, gizzard
washer, giblet chiller and giblet pump / transport system.